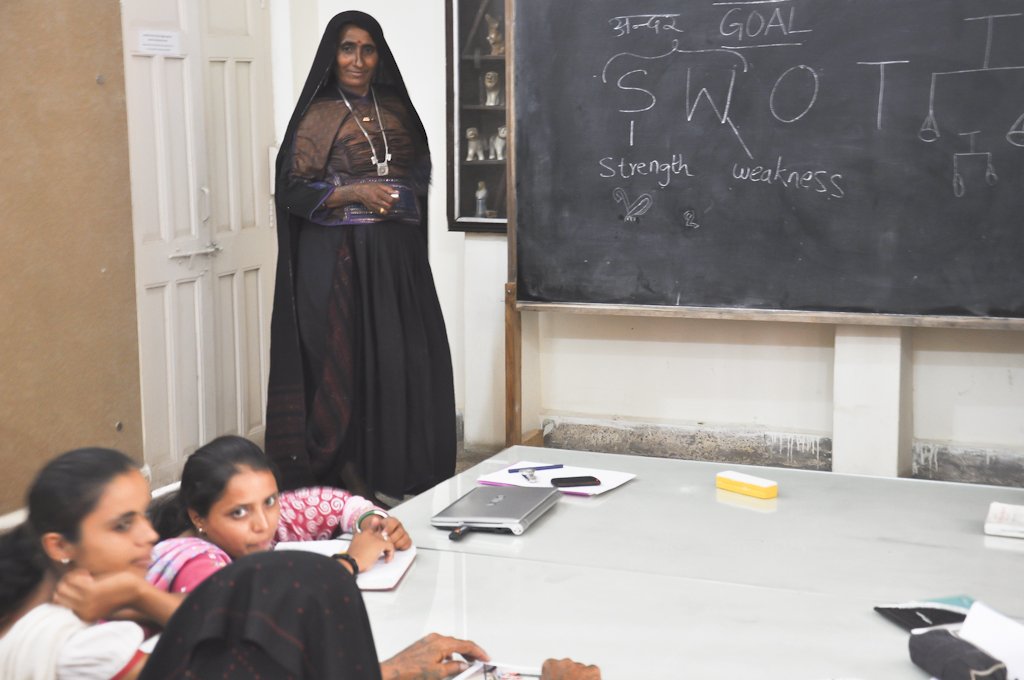 The women's business and management class began. Hariyaben symbolized it as a computer screen with an "A" inside- opportunity.
I call it "Soul Searching, Confronting your Demons, Getting Ready."
This course has no full stops. It is intense and crammed into a very small space. No tea breaks, and no place to go.
The women are as always, different from the men. They use the SWOT exercise to analyze their experiences deeply. They are acutely aware of their limitations. While the question for the men is how to grow their business, for the women, it is how to start? How to circumvent all of the real and imagined obstacles? How to procure raw materials, contact the market?
Monghi is afraid. She is the last young embroiderer of Vandh. Can she do it? Would she get support? During the class, a man from her village organized a huge meeting for all Rabaris to discuss where education can take you. Would he support Monghi? He did not send his wife to our class.
The teacher shows a TED talk by the father of the young education reformist Malala. He talks about the systematic limiting of women, how it is sanctioned and passed on. Women are property, honour. They believe it. They lose their creativity, turn it inward like ingrown nails. Zakiya expresses her frustration. All her childhood she was treated "like a boy." Now, as she matures, she is treated "like a girl."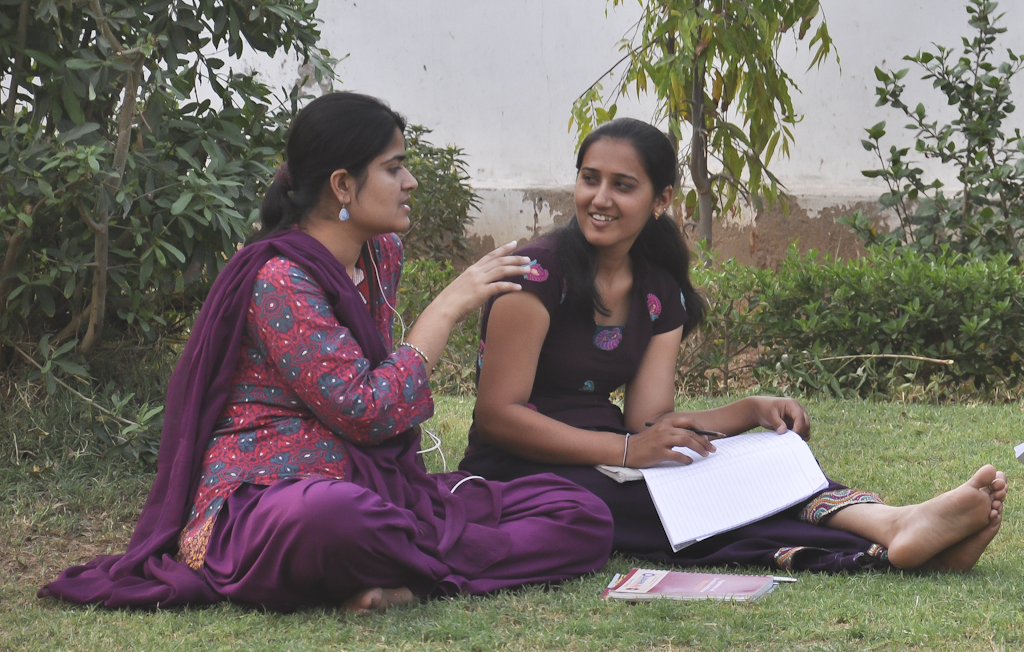 Hariyaben, much older, has learned to use this to her advantage- not a girl- a queen! She gets things done for herself. But it often seems passive manipulation.
She has an opportunity to participate in a quilt exhibition in Chennai. She has organized a group with the name "Ralli ni Rani" (Quilt Queens), made the quilts, but she wants to know if it is a good idea to go to distant markets?
She finds reasons not to participate in the English class. "If we try to speak a little English with a customer," she says, "Our community will ridicule us."
Crabs in the basket.
At the perfect moment, Shakil arrives and we set him in the class. He says, you have to go out, to exhibitions. You are the one who can sell your work.
I put the quilt project before the class, as a class problem. The women understand they need to go out to sell. But Hariyaben wants someone else to get the materials and sell the products. Unless they take responsibility how can they operate a business? Unless they feel the need to sell, how can they move ahead?
The class comes to the conclusion that they have collective strength. They can pool their individual strengths and overcome their weaknesses. Lakshmi and Zakiya, both educated but too young to have market experience, decide they will together take the quilts to Chennai! It will be an opportunity to experience the market, and if there are two of them their families can't object.
In two weeks, the women have searched their souls, thought until their brains hurt.
The course is difficult. The goal is high: to design a collection and produce it for an exhibition. Harkhuben has decided she will drop out, non- negotiable. Sajnuben is getting stressed. Tara has gone beyond her comfort zone.
The suf artisans- Lakshmi, Tulsi and Tara- finalize a joint collection theme, "Butterflies." They choose the concept because butterflies are colourful, light and can travel anywhere. It works with their delicate suf embroidery.
We watch YouTube clips of caterpillars wholeheartedly enveloping themselves in their chrysalises. Then they struggle magnificently to emerge, wet and exhausted, dry their wings…. and fly.
I wonder if they realize the metaphor they have chosen?
https://textileslive.com/wp-content/uploads/1-swot-sm-0372.jpg
680
1024
Judy Frater
https://textileslive.com/wp-content/uploads/TextilesLive_Logo_150.png
Judy Frater
2014-06-02 16:32:42
2023-04-04 21:09:22
BUTTERFLIES IN BUSINESS