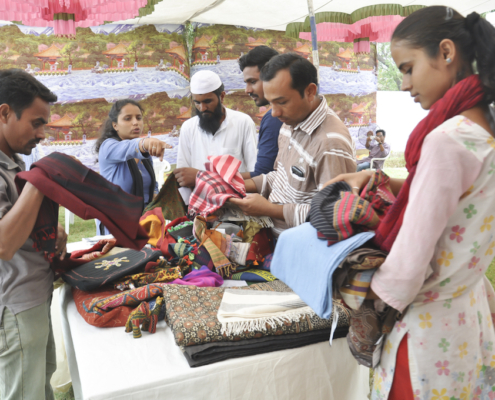 Two days ago, the women artisans of Sahasra stayed overnight, after a long and intense workshop. Somaiya Kala Vidya has become a safe and nurturing place for them. And in the morning they were in no hurry to leave.
I updated everyone on their business mentorships. We might have to work to encourage the concept of co-design, I observed. I forgot that not all designers are aware of it.
And we informally slid down the tunnel of the safe haven, into a discussion on how artisans are perceived. Bishakha, who had taught the workshop, mentioned what I so often hear: When people learn that she is going to teach artisans, they say, 'oh, so you are giving them designs.'
Zakiya related that at the BMA show in Mumbai someone had said to her,
"You are so smart- and you even know English! Why are you wasting your time on craft?"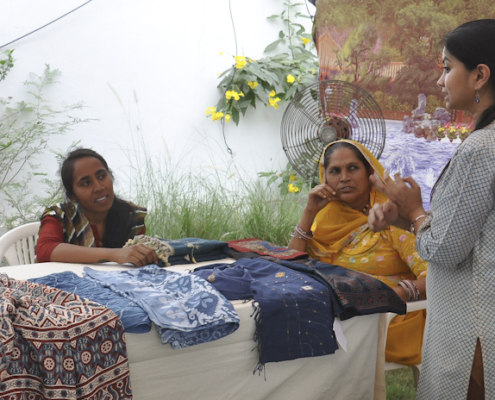 Bishakha shared that when she was a student and decided to go into design, her parents warned her, dear, don't become a tailor, now!
The suf artisans lamented that in their village people feel that when a girl does not go on in studies, she does embroidery. Zakiya agreed. It's not just that way for women. Parents of boys also say, "If they can't do well in education, they go into craft." I remembered years ago meeting a weaver at an exhibition and telling him I was happy his son was there with him. "Well," he answered, "He didn't pass tenth grade. What else could he do?"
I remembered a famous essay of 1969 by Jerry Farber, "The Student as Nigger." Harsh words, and when I tracked it down it was too strong to put in this blog for India in 2015. But there is a parallel nonetheless. The system has kept artisans in a stifling box.. How will we ever unlock this system? I wondered.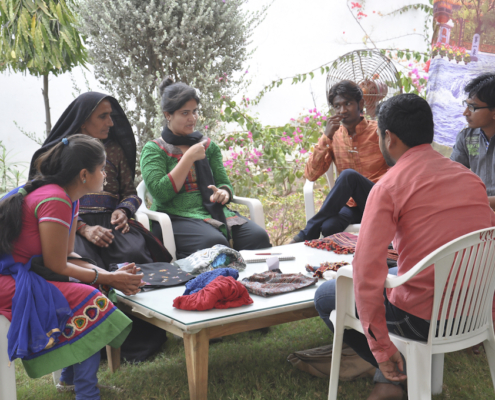 I asked the artisans why art and craft are seen differently? We talked about the role of the critic. I told them the wonderful story of how a visionary critic had made the world see the quilts of Gee's Bend as art. We need a brand ambassador! They exclaimed.
Then we looked at Raza and Anish Kapoor on the internet. And soon everyone was absorbed… because after all, the difference between artist and artisan is a social fabrication.
https://textileslive.com/wp-content/uploads/1-choosing-products-sm-0032.jpg
680
1024
Judy Frater
https://textileslive.com/wp-content/uploads/TextilesLive_Logo_150.png
Judy Frater
2015-03-31 16:12:02
2023-04-04 21:07:26
The Artisan as Student…. A Bit More on Co-Design