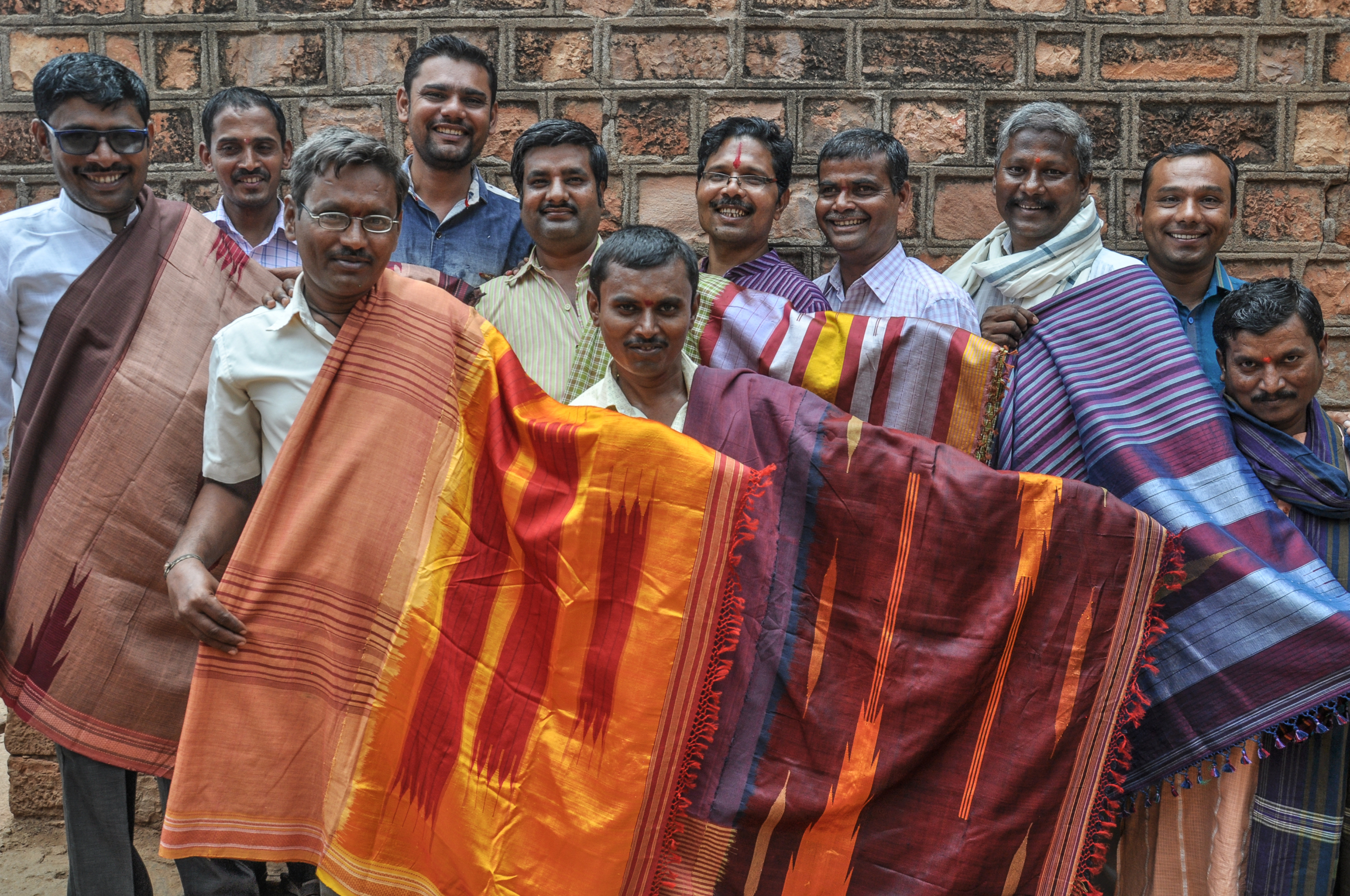 In the time of the plague in India, 1994, Kala Raksha exhibited a small collection in the National Gallery of Modern Art, Mumbai, and also held a pop-up a few blocks away. A customer contacted me, angry. 'You are cheating,' she said. 'The shawl in the Museum is triple the cost of the one in the pop-up.' I explained to her that the Museum shawl was yarn dyed in natural dyes and had a lot of fine embroidery, while the pop-up shawl was piece dyed in synthetic dye and had less embroidery of lower quality. Then I added, "If you don't know the difference, you should buy the cheaper one."
By then I was already frustrated by customers not understanding craft. It has changed very little. People compare tourist embroidery peddled on Janpath with work lovingly stitched by traditional artisans, one-of-a-kind textiles designed and created by one artisan to production work cranked out by laborers in workshops, power loom to hand loom.
Excellent hand craft requires both effort and appreciation. Artisans create amazing work to compete for prestigious awards, but never make it for sale. It's not worth it, they say.
Somaiya Kala Vidya conducted its first Outreach project with Ilkal sari weavers of Kamatgi, Bagalkot District of Karnataka. A key characteristic of Ilkal saris is the Kondi technique, in which cotton and silk yarns are painstakingly joined to ingeniously enable a weaver to create a sari with a cotton body and silk pallav (end). The join is a soft irregular blending. The sari is comfortable to wear, economical to produce, and looks fabulous. When the Kamatgi weavers refused to continue traditional kondi because it was too expensive, artisan designer mentor Puroshottambhai asked, "How expensive?" RS 50 more, they answered. "There's your problem," he rejoined. "With a RS 50 difference, people will bargain you; if it's RS 1000, you will have the chance to explain."
Exquisite hand craft is for people who care. How do we ensure the chance to explain? The customers who want to listen, who can consider scaling the walls of their own preconceptions? Perceived value is an art, not a science. It depends on the presentation of fine craft. And the artisan must be in the center, because the value of craft is the value of the individual -of human connection.
My advice to the customer in 1994 was clearly a bad approach. As advocates and sensitive intermediaries, our challenge is to explain craft so that customers know and value differences in hand work, and to do that, we must truly value hand craft ourselves.
Photo: The Kamatgi Ilkal and Bhujodi weaver designer mentors Puroshottambhai, far right back row and Niteshbhai, second from left back row, proudly show their 2017 sari collection, some of which- the golden pallav in front for example, use the traditional kondi technique.
https://textileslive.com/wp-content/uploads/Bagalkot-2017-0050-scaled.jpg
1700
2560
Judy Frater
https://textileslive.com/wp-content/uploads/TextilesLive_Logo_150.png
Judy Frater
2023-09-23 19:05:38
2023-09-23 19:05:38
All About Value