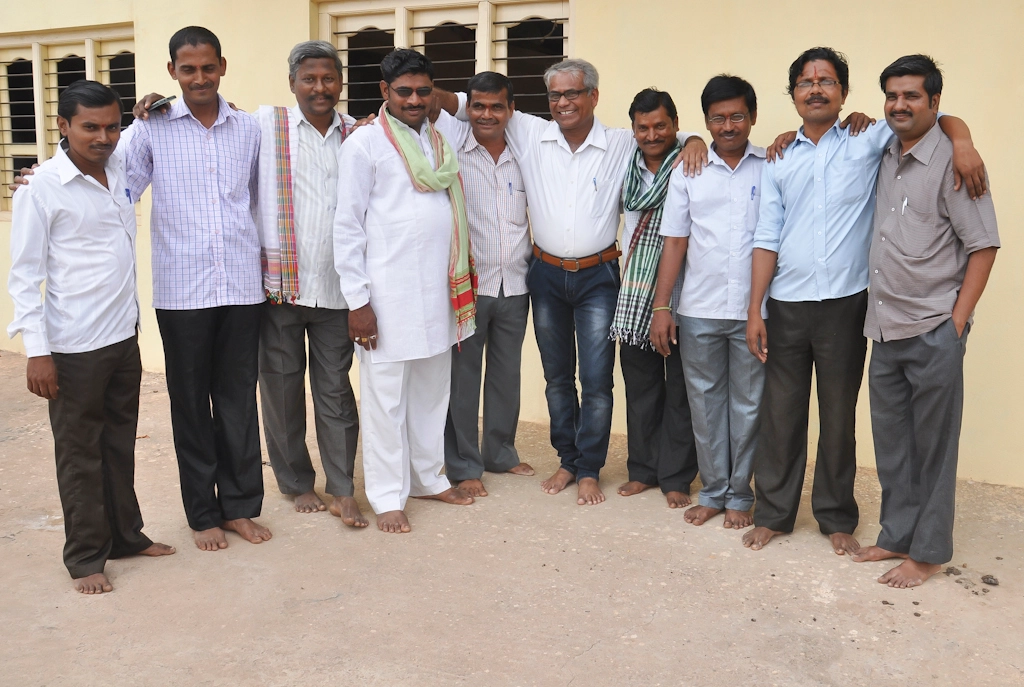 In our Outreach program we are teaching our core Design for Artisans course in abbreviated form, tailoring it to the groups and interspersing it with exhibitions to insure income and enthusiasm generation as well as direct implementation of the material. The Bagalkot weavers have taken the colour course and the basic design course, after which they did their second exhibition in Mumbai. Next comes Market Orientation. We had done a field trip to Fabindia and two homes immediately after the Mumbai show. Looking back, the weavers said one home they thought was a museum. The other quickly convinced them that saris could not only be RS 5,000: they could even be RS 50,000!
Last week we conducted a local Market Orientation course in Bangalore. As the weavers make saris, we focused on the sari market. They saw a range of shops from the famous sari supermarkets, Vijaylaxmi and Nallis, to the boutiques House of Tamara and Ants. They saw saris priced at RS 100,000, and purchased dhotis almost triple the cost of they ones they get at home, because they were worth it. They met Poonam Bir Kasturi, and were keenly interested in her home composting Daily Dump. And they held a trunk show at Jaya and Mohan's yoga studio, the Practice Room, where they sold RS 33,000 of saris in two hours.
The weavers are really smart. They are on the job and understand quickly.  When they came back, they gleaned important feedback for their saris, and efficiently analyzed the segments of Bangalore plus a recent experience in Chennai, and picked out the one for themselves: the boutique, of course. Shwetha Shettar taught them in Kannada, assisted by Dayabhai in Hindi. They designed saris for different consumers in half a day, and asked confident prices.
In order to utilize this long distance trip to begin planning for next September's exhibition in Mumbai, we then reviewed colour and basic design. We will omit the Concept course for this group, and instead introduced a sustainable way to insure future collection development by asking them to find inspiration for colour palettes from their environment.
By now, all of them have smart phones- a direct impact of the program! Tukaram has already learned some designing techniques on his. So off they went down the streets of Kamatgi, delightedly photographing walls, gardens, and cooking in process. Very fortunately, it was the weekly market day, so they got images of the dense colours of vegetables, spices and black pottery. They quickly chose favorite images and extracted colours. We had thought about how to get these colours to the dyer. Taking them to a fabric "matching center" in Bagalkot seemed a good possibility. Then we found a shade card for silk yarns in Hotiji's office. We were planning to sneak out just a few tiny threads. But the weavers had a much better idea. They knew the local tailor supplier and ran down, bringing back a stack of boxes filled with sewing thread of every colour. They chose colours from the many spools, cut a length and put them back — free! He won't charge us for a few meters, they said.
The best part was how much they enjoyed it all. Grown men playing. When Shwetha introduced USP, they each gave an analysis of each other, with so much love and affection. They are cooperative. I asked if it was working in the Cooperative Society or by from nature? 90% nature, they said.
They are not doing this for money. That is clear. It is about joy, creativity and recognition.
But when we got to production planning, it did become about money. They are not getting advances from their regular work these days. So there is no cushion. They have mostly paid off their loans for the project and there is now nothing to invest. Plus, they are afraid after the scant footfall in the last show. But Shwetha skillfully pointed out that over all they have sold almost everything, and the feedback of shops and individuals has been excellent and very enthusiastic. There is a constant need to bolster confidence. It will happen. Hotiji, the Society secretary, is ready to set up four looms just for the project.
Look for the colours of Kamatgi in September!
https://textileslive.com/wp-content/uploads/29-bhujodi-to-bagalkot-2016-sm-0380.webp
687
1024
Judy Frater
https://textileslive.com/wp-content/uploads/TextilesLive_Logo_150.png
Judy Frater
2016-04-07 15:06:05
2023-04-04 21:05:38
Bhujodi to Bagalkot Goes South