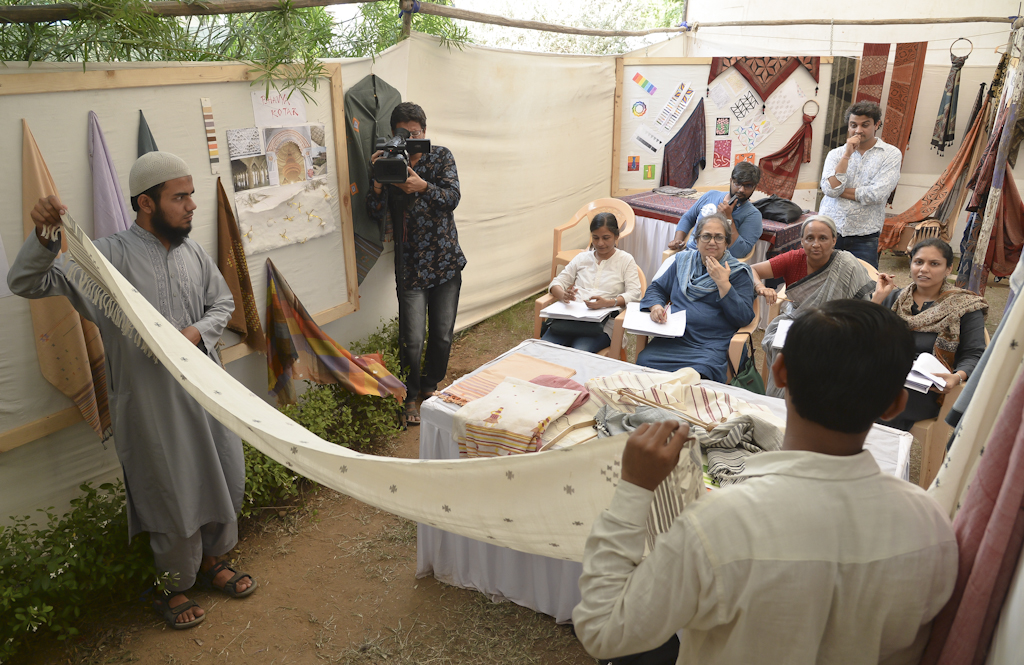 The Design Course 2016 is over.
After six intense courses and nine months of hard work, last month we completed the two-day jury, in which our artisan designer students present their work to professionals in the design and craft world.
Every year it seems to become more complex. The artisan students strive to understand and translate themes and concepts, to innovate and carry forward their deep, ancient traditions.
They yearn to succeed.
"But they can't all succeed," one jury member said.
I'm not sure if I agree.
"Tell me what, what, I don't know….what is success?" croons Bonnie Rait. "Is it doing your own thing? Or to join the rest?"
Indeed. Does it mean becoming a super star? Or is it selling well in the market one chooses? Chooses is a key here. Because choice is essential to empowerment.
"But, do they want new or traditional?" asked Izaz after his jury. He was deeply puzzled because in the same hour, the same jury members had told him two different things.
The truth is, people who know and love craft- the ones we call as the jury and the ones we want as the market, want something new, and they don't want something new. Both are true.
Disconcerting, however, is that even while jurying students of a design course, the jury could not help but focus on technique.
This is reality too. People associate artisans with technique. Surely, technique is an important part of design. But what about the rest that comprises design– and a tradition? Weavers in Mexico, Morocco, Kutch or Assam use basically the same techniques. Of course there are differences that are deeply important to weavers. And technique itself is nuanced. In traditional work there was variety in technique, and that changed slowly and subtly over time, telling the story of where its practitioners had been and who they had met.
But to the consumer the techniques are more similar than not. What distinguishes one tradition from another is use of the technique, the combination of fibers, yarns, colours, motifs, layouts, and the final product. Any of those elements can be varied in unlimited ways to make an innovation. But only the artisan knows in his or her heart whether the essential character of a tradition is preserved. That is why artisans designing is critical to the preservation of traditions.
So what is the answer? As the jury told the students, there is no answer, no formula to design. Design is a way of seeing and thinking. It is seeing the bigger picture, the context. So in the end, the real responses were visceral, aesthetic responses.
So how does an artisan designer move forward toward success in this murky complex world?
At lunch the second day, escaping the heat, we watched The Eye Has to Travel, a documentary on Diana Vreeland. Inspiring, it was also apt. As Diana told a colleague at Vogue,
"You don't give them what they want! You give them what they don't yet know they want."
Next stop, Ahmedabad– where these soon to graduate Artisan Designers will test their collections in a real market experience…..
https://textileslive.com/wp-content/uploads/design-craft-dilemma-sm-10.jpg
665
1024
Judy Frater
https://textileslive.com/wp-content/uploads/TextilesLive_Logo_150.png
Judy Frater
2016-10-23 15:02:47
2023-04-04 21:05:17
The Design Craft Dilemma