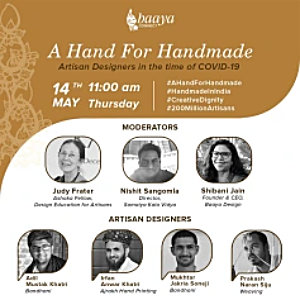 Artisans, among many people in India, are experiencing extreme stress on their professions due to the prolonged lock down imposed to control the spread of COVID-19.  Many people are concerned that Indian craft and handmade face an existential crisis.  Baaya Design initiated a group of over 250 designers, members of NGOs and businesses all wanting to help artisans.  Suggestions have been made for making new products- with a focus in face masks, for marketing through online platforms and for initiating education in schools. The discussion has been overwhelming.  Yet, it is based in certain assumptions that once again bring up questions:  who are artisans?  and who are craft consumers?
And how do artisans perceive their situation?  Craft is their cultural heritage and they certainly have concerns about its future. They must be involved in the discussion, as equal partners.  On 14 May 2020, Baaya Design organized a webinar in which four artisan designers from Kutch- working traditional artisans who have taken a year-long design course, discussed their goals, the impact of lockdown on artisan communities, their challenges, needs and creative solutions.  Finally, they shared their visions of the future of hand craft and changes they would like to see.
Irfan Anwar Khatri, Mukhtar Jakariya Soneji, Prakash Naran Siju and Adil Mustak Khatri represent over 200 artisan designers who have graduated from a year-long program in design education.  Each artisan introduced himself and described his unique enterprise.
Irfanbhai, an Ajrakh artisan, makes saris, dupattas, stoles and fabric for a range of domestic and international clients.  Mukhtarbhai, a bandhani artisan and Design Faculty member of Somaiya Kala Vidya, makes saris, dupattas and abhas for the higher-level domestic market, selling through pop-up exhibitions and buyers.  Prakashbhai, a weaver from Bhujodi, is one of a few carpet makers.  His family worked for a Finnish buyer for over a decade before starting their own business.  Adilbhai, a bandhani artisan, makes accessories, selling primarily in better pop-up exhibitions.  This year he was juried into the International Folk Art Market, Santa Fe.
All four artisan designers clearly defined their goals as artisan designers.
"I want people to use hand work and buy directly from artisans," Mukhtarbhai states.
"I want to have my own studio and be known by my name in the world of fashion," Adilbhai says.
"My goal is to have people recognize carpets of Kutch," Prakashbhai agrees.  "I want to have my own business and be known from my work."
"We make products, and customers know the brands to whom we sell," Irfanbhai echoes.  "We want to sell directly so that we and the customers can know each other, and we can gain recognition."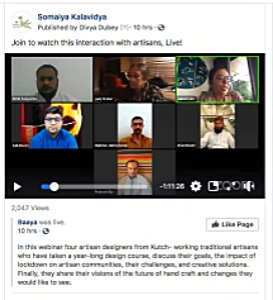 The lock down imposed on 24 March 2020 has severely impacted artisans in Kutch.  "After the earthquake of 2001, Kutch was devastated," Irfanbhai notes.  "Now it is the whole world.  Everyone's income is stopped, while expenses are continuing.  Everyone has the same problem. Our production and sales are both blocked. Some of our orders, which would have been finished in 4 or 5 days have been cancelled.  Other customers want our stock, but we can't send it because transport is shut down. The artisans who work for us are in a bad situation.  They are daily wage earners who live in nearby villages.  It is Ramzan and we want to distribute alms.  We made ration kits and distributed them."
"The selling season for weavers is winter and was it was over," Prakashbhai says.  "This is our time to get raw materials.   But we can't go out or order due to the shutdown of transport.  Many of our weavers also work for Master Artisans.  So these people, also daily wage earners, are out of work."
"Our bandhani artisans are women in various villages," Mukhtarbhai shares.  "Now we can't get to them. Our communication is broken and we can't finish pending work.  Once the monsoon season begins, the women will go to work in their fields."  In addition, Adilbhai worries that when the market opens he won't have appropriate products.  The Folk Art Market for which he was preparing has been cancelled.  The products he has ready are for that market, not the domestic one.
Furthermore, he reveals, some customers are now trying to exploit them.  They approach artisans saying, 'you need money now; sell your stock at a discount.'
Asked if their design education has been useful during these difficult times, Mukhtarbhai says, "One hundred percent!  During lock down we sit at home and make new designs.  We plan where to sell after lock down opens; we think about the market we want to target and do experiments.
Adilbhai adds that because of his education, he is efficient in using his time.  He can apply design to existing traditional techniques.
Prakashbhai shares that many designer weavers have limited raw materials, so they strategized and are producing masterpieces using more workmanship.  These will earn more value when lock down opens.
Ifranbhai demonstrates that education need not be aimed only to make money.  "We also used our waste fabrics to make masks," he says.  "These are needed and too expensive for many people now.  So we gave them to people in neighboring villages for free."
The needs that artisan designers express are not for handouts but for opening services and stimulating cash flow. All of them emphasize that the first need is to open transport.  "Buyers are ready to buy, but we can't send them products," Adilbhai says.  "We also need capital.  If we could get interest-free, long term loans we would not have extra burdens.  Craft takes time."
"Everyone wants to be able to sell their stock," Prakashbhai says.  If agencies like Gurjari can purchase from real artisans it would help.  And we need loans that are easy to access.  I tried to get a loan and it took 8 months.  Intermediaries asking commissions are also a problem.  We need fast, direct loans."
Mukhtarbhai has a similar experience.  He has tried 8 times to access loans but has never succeeded.
"Once transport opens," Irfanbhai says, "we can move stock, get income, restart our cycle.  We have artisans who need work.  Local factories have received permission to start.  If we can't pay our artisans, they will go and work in the factories."
"Online sales are the best option for now," Adilbhai foresees. "People won't want to go to crowded venues such as exhibitions."
Irfanbhai agrees.  "Online sales are hard to manage at first, but once we learn it is a good platform for us because we can directly connect to customers and become known."
Prakashbhai suggests a need for further education.  "Most online sales are on large famous sites," he notes.  "Small artisans don't get a good response to direct sales by Instagram and Facebook because they don't have the ability to create good visuals.  If they can learn this type of marketing, they can get better value and a better response.  This way they can become known in the market."
So, what future do they foresee, and what, as Artisan Designers, do they wish for the future of hand craft?
"We want our traditions to continue," Irfanbhai says.  "We want to do good work, higher value, less quantity.  After lock down we know people will have trouble.  Three are three types of customer 1. Those who buy our products because they need them, 2. Those who don't need our products but buy them because they want to support us, 3. Those who want to exploit us due to the situation.  In this situation, we need to make less work but good work.  And we need to take our time, not be in a hurry to sell.
Prakashbhai agrees. "We do not just make products. Our work has thought, a story, feelings, creativity. Customers need to feel, understand and appreciate hand work."
"Hand craft needs more respect," Adilbhai echoes.  "No one bargains with brands, only with artisans.  We also need the support of buyers.  They should make an effort to use handmade work for special occasions."
Mukhtarbhai agrees. "The future for hand craft is good if people prefer hand made.  And I wish for people to buy directly from artisans."
"People think craft is expensive," Irfanbhai adds.  "It is not that expensive.   Others get the advantage.  If you buy directly from artisans, craft won't be expensive."
When the webinar opens for questions, the need for mutual understanding is clear.  The audience speaks in terms of "helping" and "encouraging" and the need for artisans to "cooperate."  This language is rarely used for others out of work: construction crews, shopkeepers, office workers or airlines personnel.
One person wants to know how to get craft into the fast fashion market.
"Buyers need to be interested in learning about craft," Adilbhai states.  "Until they understand it can't go forward.  We make an effort to show customers how bandhani is done, what is real."
"We work in natural dyes and there are variations in colours," Irfanbhai explains.  "Not big differences, but variations.  We can work to customer requirements.  But it is expensive to make new blocks for new designs, to develop colours, and we need to have those expenses covered.  The meaning of Ajrakh is 'Leave it for Today.'  It is a long process, at least 14 days, the slower the better, the more beautiful.  If we try to do it fast it won't be good."
"And please remember that we are Artisan Designers," Adilbhai adds. "We can do our own designs.  It's better if instead you promote our own designs."
There is some discussion on how to introduce craft to schools, so that children can learn to appreciate hand work.
Mukhtarbhai, himself a teacher, advocates collaboration.  "People have to know our traditions first," he says.  "And from the urban population we want to know about the future.  We need to share our strengths."
One of the last questions is how, as Artisan Designers, the panelists have taken their traditions and their individual identities forward?
"Just like any designer, we look at trends and make new designs each year," Adilbhai answers.
"And we target specific markets in addition to studying forecasts," Mukhtarbhai adds.
"We used to have to think how to make new designs," Prakashbhai says.  After education our vison has changed.  We know how to use traditional techniques in new ways.  We make new products.  For example, my brother took the course and in class got ideas to make containers, floor cushions– without using machines to finish them.  We aren't afraid to experiment.  Now we are even using new techniques- such as pile weaving.   We aren't afraid and we know how to not leave our traditions- to retain them."
"We used to do what designers gave us," Irfanbhai relates. "It was difficult and not respectful of our traditions.  Now we make new designs that take tradition forward and keep our identity.  We don't want to lose our identity.  It should be both Ajrakh and new."
The final discussion focuses on the expected market after lock down is over.  The questioner suggests that artisan designers not offer discounts because it will set a precedent.  "Don't let anyone take advantage of you," he says.  But he questions the strategy to make higher end products.  People will not have the means to buy, so you should make cheaper things that people can afford, he advises.
"I don't agree," Adilbhai firmly answers.  "I don't think lock down will affect better buyers much.  So we should make higher end products."
In 2010, the Crafts Council of England did a study of craft consumers.  What they found is that Craft consumers tend to be women, educated, older, culturally active, open and independent thinking
More important, the study correlates craft buying choices to consumer trends influenced by the current market environment. It shows that craft consumption is clearly not essential; yet it is a market that was relatively unaffected by the market recession. Consumers value craft in terms of authenticity, quality, workmanship, and wide personal appeal. Consumer demand has shifted towards value-centered products which meet emotional as well as functional needs. People buy craft as a more personal, genuine, unique and ethical route for consuming objects.
There is an assumption of desperation among artisans.  While some artisans may indeed be in dire straits, all are not.  And if desperation is the premise on which we base our actions, it is an opening for exploitation and will in the long run be harmful to artisans.
"We need not be in a hurry," Irfanbhai said.  "We can avoid the third type of customer, the one who wants to exploit us."
"How can artisan designers sell directly to us?" one young woman asked.
Can we use this unprecedented time to take time, to look back and reinvent aspects of the traditional craft "Marketplace" in appropriate contemporary terms?  Can we think of not being in a hurry, of customers and artisans sharing the same criteria for evaluation?  Can we think of exchange with a strong social element, where it is not purely economic, and Artisan Designers and customers know each other as people?
Artisan Designers have Facebook and Instagram accounts.  They want to connect directly.
Mary Jaeger, an artisan designer from New York writes of her experience of life in the time of COVID-19, "The luxury of time and togetherness with my family is part of our newly evolving normal.
I wanted my one-of-a-kind accessories and garments to resonate a changing consciousness for a more simple and responsible use of materials honoring handmade work.
I chose seven words of hope to embellish my clothing to communicate a deeper need for humanity: LOVE, JOY, PEACE, HAPPINESS, COURAGE, COMPASSION, EMPATHY."
Together we can work to maintain and increase the value of hand craft.
https://textileslive.com/wp-content/uploads/hand_for_hand.jpg
300
300
Judy Frater
https://textileslive.com/wp-content/uploads/TextilesLive_Logo_150.png
Judy Frater
2020-05-19 11:10:42
2023-04-04 21:01:01
Artisan Designers in the Time of Covid-19