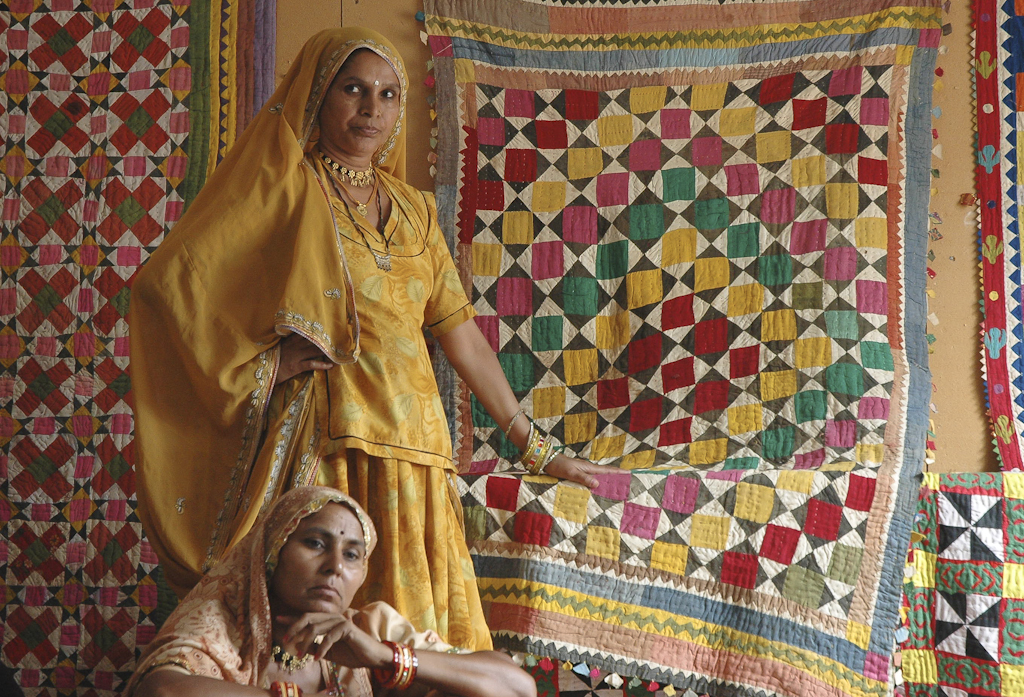 When I first encountered people who had migrated from Nagar Parkar to Kutch, women did not go out. Not even into their own village, not even to bring water or vegetables. In decades in India I had never seen men doing these household tasks. But in this subculture, keeping women secluded superseded everything. One day, a young woman asked me where her uncle's shop was? I was astounded; it was in the center of this little village of population 7,000. She had not been able to venture into town since she reached puberty.
I insisted on a few tiny steps, trying to respect the culture in which I was surrounded. Women had to come to meetings in order to get work. They had to come forward and sign in order to get paid. ….At least a representative or two had to come to bazaars and meet the customers.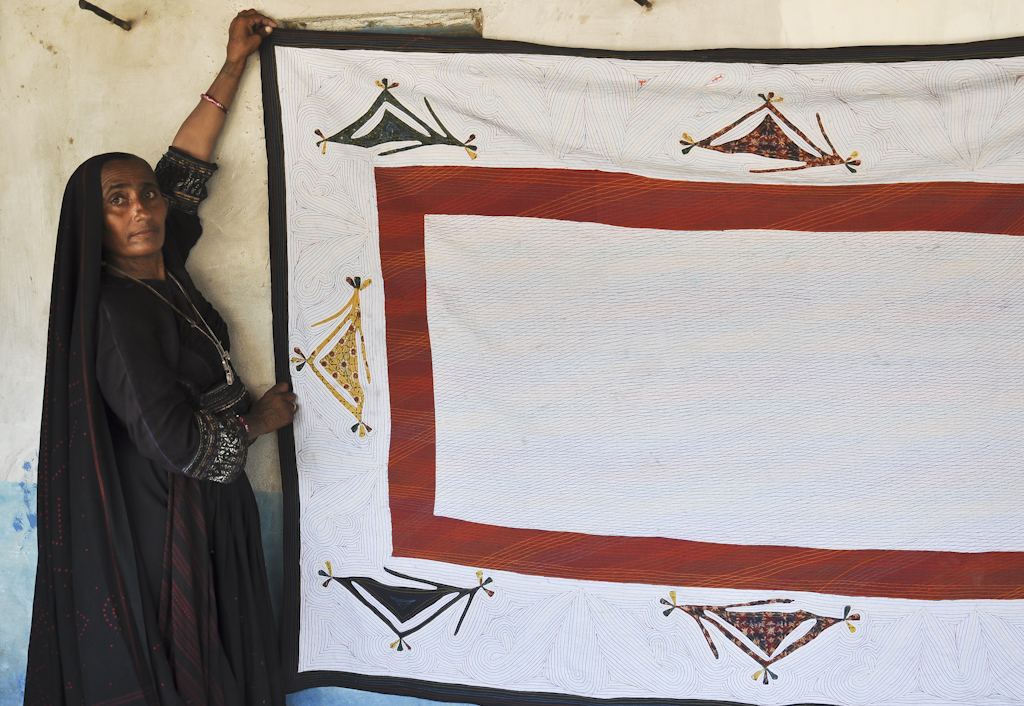 Meanwhile, I also opened up the earning potential. Women older than 35 or so could no longer see to embroider, but often had more free time. I had them make the humble patchwork ralli quilts they traditionally made for household use in natural dyed, printed fabrics, for sale. They laughed at this idea. Who would buy such a thing? But these ralli quilts were new in the market and sold very well. I encouraged them to look back to the examples at home and in our museum and re-invent their designs. Quickly, these older women took interest and pride in their new opportunity. They were good artisans, and they knew it. They demanded continuous work at fair wages, and enjoyed the comfort of getting it without having to leave their homes.
Times changed. More artisans had slid into the older, ralli-making group. And they were no longer getting the work they wanted. Not wanting to be idle, and ever hopeful they experimented with quilts for sale on their own.
God, as ever, is Great. Just as ralli master Hariyaben took the courageous step to join a new "post graduate" course in Business and Management for Artisans, an opportunity to participate in a quilt exhibition arrived.
Can you manage this? I asked her.
Without skipping a beat she said, "Yes."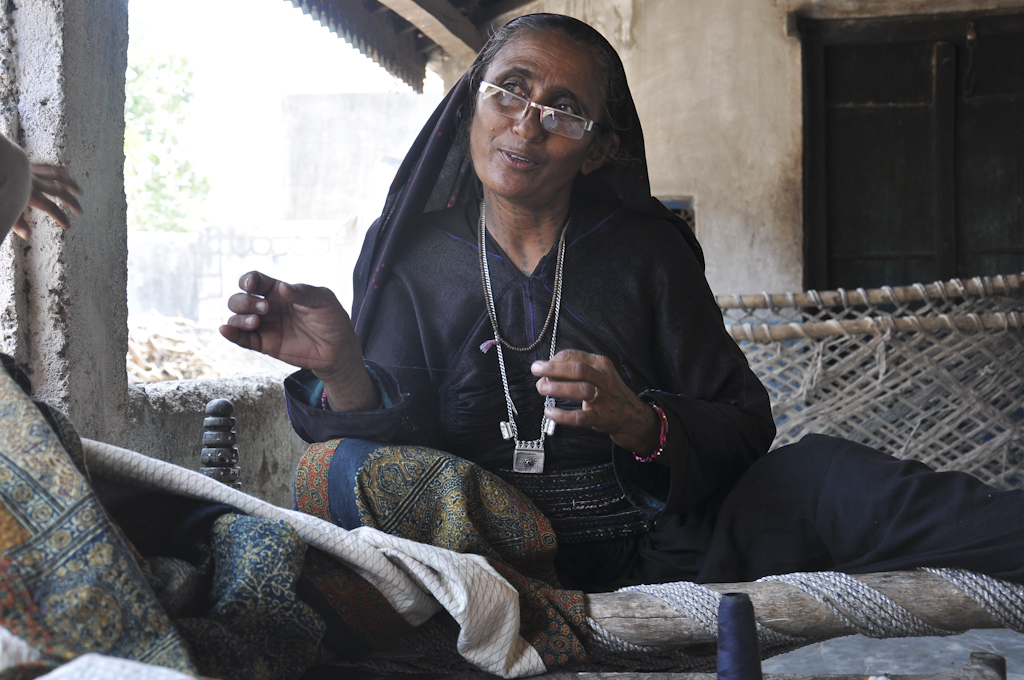 Together we made a target of 30 ralli quilts. I fronted her the raw materials. And I could not resist naming the project Ralli ni Rani: Quilt Queens. Production management was up to her. I soon realized the old pitfall of paying: she saw the quilts as more mine than hers, and complained that I had not gotten her enough fabric, fast enough! I asked how she would have done the quilts if they were for her home? She brightened and quickly said she'd have gone out and gotten the fabric.
What is the difference? Is the market the barrier? Or the opportunity to have someone else be responsible?
Now. finally, it is countdown time. The quilts have to be priced and sent to Chennai. I have work in the area and offer to pick up the quilts and have our office pack and ship them. But on the way the brakes of our car fail and we can't reach in time.
You will have to get your son to bring the quilts, I tell Hariyaben.
She objects. But I can't comply.
Next morning, Hariyaben calls from her mobile phone. There is traffic noise in the background. "Tell me your address," she says. "We are on the way."
An hour later she shows up, having engaged a culturally appropriate chaperone and a three-wheeled "chakado," with 26 ralli quilts. All are already priced– and photographed. Five more are in production.
At lunchtime, I remember that I have sat with Hariyaben and her women relatives to break their annual ten-day Dasama fast. In the seclusion of their homes, these women swallow burning dough lamps. Yes, they are surely Ralli ni Rani: Quilt Queen fire eaters.
https://textileslive.com/wp-content/uploads/1-ralli-ni-rani-sm.jpg
697
1024
Judy Frater
https://textileslive.com/wp-content/uploads/TextilesLive_Logo_150.png
Judy Frater
2014-06-02 16:34:49
2023-04-04 21:09:14
RALLI NI RANI