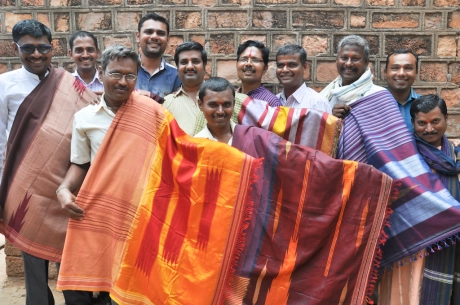 "We want to weave!" They avowed, one after another, all nine of the Kamatgi Jeevadaara group. Remarkable for weavers in Karnataka today, when their community members refuse to give a daughter in marriage to a home with a loom. But in three and a half years, working artisan-to-artisan with Somaiya Kala Vidya graduates in our Bhujodi to Bagalkot Outreach project, these weavers have learned to love their tradition.
Kamatgi is the name of the village where these weavers live. We called the project "Bhujodi to Bagalkot," because Bagalkot is the name of the District. Ten years ago, Kamatgi had ten thousand handlooms, mostly dedicated to Ilkal saris. Today there are only one thousand two hundred.
There is a lot working against the Ilkal sari. Ingenious as well as beautiful, it is the only sari made with a cotton body and a silk pallav. The cost effective and comfortable design is possible through an intricate, labor intensive "kondi system," in which women loop each cotton warp thread with a silk one for the pallav. Today, as Ilkal saris are copied in power loom, the government is urging Ilkal sari weavers to switch to Jacquard replicas of Varanasi saris (though Varanasi weavers struggle to survive). Alternatives are simpler technologies- ikat or silk weft only- that avoid the kondi and lose the beautiful undulating pallav edge.
In 2014, when Somaiya Kala Vidya began the Bhujodi to Bagalkot Project, Kamatgi hand weavers were doing job work for master weavers or cooperative societies, earning startlingly meager wages. P.L. Hoti, secretary of Chamundeshwari Handloom Weavers Cooperative Society, saw potential in the project, and convinced five weavers to meet the weaver designers in Kutch. The idea was quick start to good markets, so that hand weavers could understand their potential. Working in teams, the Bhujodi and Kamatgi weavers created innovative collection in six months and held an exhibition in Mumbai. The fresh cotton Ilkal saris sold and the group was enthused to learn design- a key goal of the project.
Over two years, SKV brought a compressed, tailored version of the core design course to Kamatgi. The group doubled to nine members and the sari collections each year were stunning. The group named themselves "Jeevadaara"- Threads of Life. They have held two exhibitions in Mumbai and one in Delhi. Well-reputed agencies including Red Earth and Fabindia have sought them out. As of now, 90% of production has been sold.
The road has been a series of challenges- synthetic to cotton yarns, sourcing raw materials, technological changes, new colours, layouts, language and business limitations- and not least, keeping the traditional kondi.
The staunch resistance to the kondi –the wonderful distinguishing feature of the Ilkal sari- – had to be approached with creativity. The weavers have been brainwashed that the kondi is the source of their downfall! This year, our new Bhujodi team came with fresh ideas and enthusiasm. They decided to counter the resistance with marketing. Puroshottam wisely said if you charge RS 50 more for kondi saris, people will bargain. If you charge RS 1,000 more, they will ask what the difference is, and give you a chance to market! Customers have to value this very labor-intensive technique.
Danesh, Tukaram and to some extent Vithal are ready to venture. They have grown so much in three years. Tukaram says he watched how Chaman's masterpieces sold right off at very high prices. "I think a few special, high value pieces rather than a lot of simple cheap ones is the way to go," he says.
The weavers met all of their challenges with good humor and great solidarity.  As they graduated from the SKV course in June, the nine weavers shared their dreams for the future. They all spoke with confidence and earnestness, not a hint of shyness or hesitation. All were happy and hopeful.
One by one, they said clearly, "We want to weave!"
When we began the project, weaving was a fate, a burden. Now it is a source of pride. Learning to love their tradition was the greatest achievement we could wish. Tukaram said he wants Kamatgi weaving to reach all over the world, like SKV faculty member Dayabhai taking Bhujodi weaving to the International Folk Art Market in the USA. Whether he himself goes or not isn't important, Tukaram said. Their work should go. Dasrath agreed: Kamatgi should be a brand. No one expressed great personal ambition. Nor did anyone speak of wealth. Dasrath wants a language course. They all would love two exhibitions a year. But at least one is a must. They want their tradition to be revered. They want to travel, see the world.
The Bhujodi to Bagalkot+ exhibition will be at the Folly Gallery, Amethyst, in Chennai 7-9 September, followed by a workshop/ demonstration at Dakshinachitra in Muttukadu, Chengalpattu 10-11 September. Kondi Ilkal saris will be featured!
After that, the world is the limit.
https://textileslive.com/wp-content/uploads/bhujodi-to-bagalkkot-17-sm-0049.webp
305
460
Judy Frater
https://textileslive.com/wp-content/uploads/TextilesLive_Logo_150.png
Judy Frater
2017-08-15 14:55:36
2023-04-04 21:04:09
Bagalkot to KAMATGI!