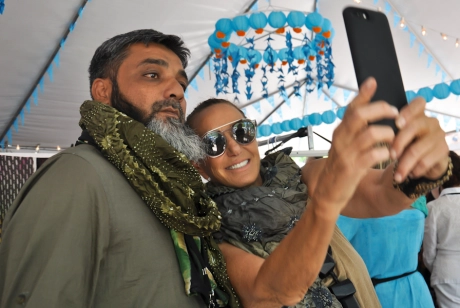 Over twelve years of design education for artisans, the issue of copying has emerged among artisan designers. They discuss it furtively, angrily.
Copying is a perennial issue in the world of design- and especially the world of fashion. It is an issue of intellectual property- name, but more of fame and ultimately income. So I thought of having an open discussion on coping with copying, between the artisan designer community and our 2017 jury members, who know the world of design and fashion.
Hearing about this idea, some people questioned why it was necessary for artisans? If artisans are copied, more people get work and it benefits the community, they said.
I wondered if Sabyasachi or Donna Karan would look at it that way?
Other people liked the seminar idea so much they told me they would copy it!
Copying in the world of traditional artisans is surely a tricky issue. Traditional art was made within a community for a particular community. Traditional designs were community property. Individual artisans were known by distinctions in technical skill, but not usually by design. Copying was not a concept.
But that world has changed some time ago. Traditional markets have dwindled. For decades artisans have been creating for contemporary markets. Our education program teaches traditional artisans to make unique designs- by innovating within tradition- with the goal that they will be known by their individual styles. By encouraging individual styles, I hope this will mean there is no need to copy.
But as artisans enter the design world, copying does happen.
Does it matter to artisans as much as it matters to Sabyasachi or Donna Karan?
Here are excerpts of the discussion…
Coping with Copying began by asking, who owns designs?
Azizbhai, bandhani artist, replied, Traditional work is community property. The new work you do is your own intellectual property.
Anjali Karolia, Professor at The Maharaja Sayajirao University of Baroda noted that in teaching, as in the world, the onus is on you to know what is happening- so that you can recognize copying or plagiarism.
But real designers don't even want to copy, she said.
Meher Castelino, fashion pandit: But it happens. Rohit Bal has copyrighted many of his designs. Tarun Tahiliani exasperatedly said he wishes at least the copies would be decent so that his name isn't tarnished. Sabyasachi is so fed up with copies that he said he feels like copying his designs himself! And Meher also faces copying of her fashion commentary.
There are professional copiers, she recounts. They make money but they don't get known. Consumers of copies know the difference between replicas and the real thing.
Karishma Shahani-Khan, fashion designer of the label Ka-Sha: You do need to speak up when you know you are being copied. But get your work out into the world nonetheless. Believe in your work. No one can do it just like you do.
At this point, Moderator Lokesh Ghai asks the audience filled with artisan designers, who feels this discussion is relevant to them?
The entire audience quickly raises their hands.
Azizbhai, bandhani artist: When I was creating new work for participating in Lakme Fashion Week, one of my designs was out in the market before the show.
And I have another, opposite experience: one well-known company asked me to copy another artisan's designs cheaply.
I stopped working with the one who leaked my design, and with the company.
Aakibbhai, Ajrakh artist: You need to work in two markets: one for a bread and butter line, and one for your extraordinary work. Have occasional special shows to show your real capacity.
Irfanbhai, Ajrakh artist- When developing new work, you have to try to keep it secret.
Gulambhai, bandhani artist: Copying is inevitable; big fish eat smaller fish. Copiers will make your extraordinary work into ordinary. Be practical.
But don't let it stop you. Keep true to quality and to yourself.
Aakibbhai insists that no one can copy his work.
Lokeshbhai, Moderator: Small fish can outnumber big fish!
Poonambhai, weaver: You have to make designs that even you yourself can't copy!
Khalidbhai, Ajrakh artist and current student: I was afraid of being copied until I took this design course. Now I know that I can make unlimited designs. I have confidence.
Lokeshbhai: How do you distinguish inspiration and copying?
Azizbhai: Inspiration comes only from nature. All the rest is copying in different degrees.
Lokeshbhai: What about taking ideas from books and the Internet?
At this, there is dead silence in the hall. The artisan designers are pausing to reflect.
Lokeshbhai: what about copying within families? We have several cases of father and son, or two brothers who have taken the course. Could you copy each other?
So far, the families are together, they say. Designs belong to the family.
Wasim Khan, Director, Lemon Design, thinks the question is apt. When families divide, intellectual property can become a bitter issue.
Anuj Sharma, Lawyer and entrepreneur, notes that the legal system is very weak. It is easy enough to copyright. But enforcement is very difficult.
Nurture your designs like your children, he says -and then let them out into the world.
Clearly, artisan designers do not think that their creative efforts should immediately be community property. Interesting enough, the jury members in just two days could recognize individual styles- and could spot "borrowing."
The artisan designer community accepts copying as an inevitable evil. But they have no interest in copying, and they will shun those who copy or want them to copy. Work with people you trust, they concur. They want to create, and they want recognition.
Lokeshbhai: Who feels that signing your work, with labels or crafted stamps, is important?
All hands shoot up in accord.
https://textileslive.com/wp-content/uploads/aziz-w-donna-karan-sm-0195.webp
308
460
Judy Frater
https://textileslive.com/wp-content/uploads/TextilesLive_Logo_150.png
Judy Frater
2017-08-07 14:57:14
2023-04-04 21:04:23
Coping with Copying