Bhujodi to Bagalkot, The First Milestone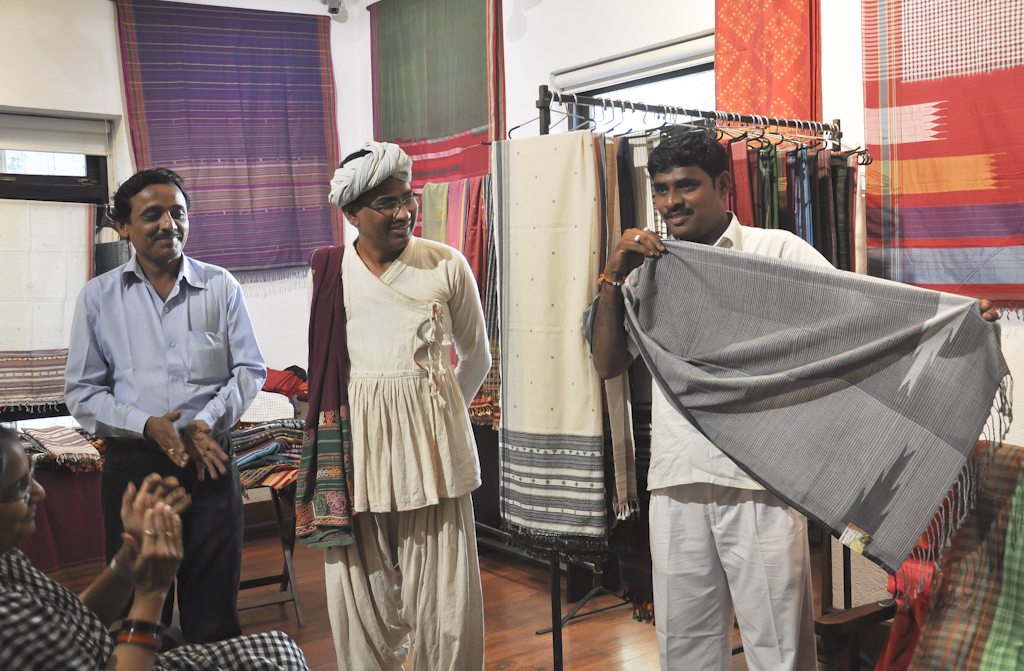 When we last left our brave weavers of Bagalkot, the second round of samples were in process, and we were combing the universe for funding for loans. God is Great, and we managed just what we needed in the time we had. But there were communication challenges and a few doubts, so within days of Dayabhai returning from his highly successful USA tour, he and Nilanjanbhai set out once again for Bagalkot. The mission was to insure that the Bagalkot team was weaving the samples approved, and to make any adjustments necessary to insure that they had the stock they would need for the October exhibition, now just over a month away. Face to face support has no substitute. The weavers were bolstered to finish their collections.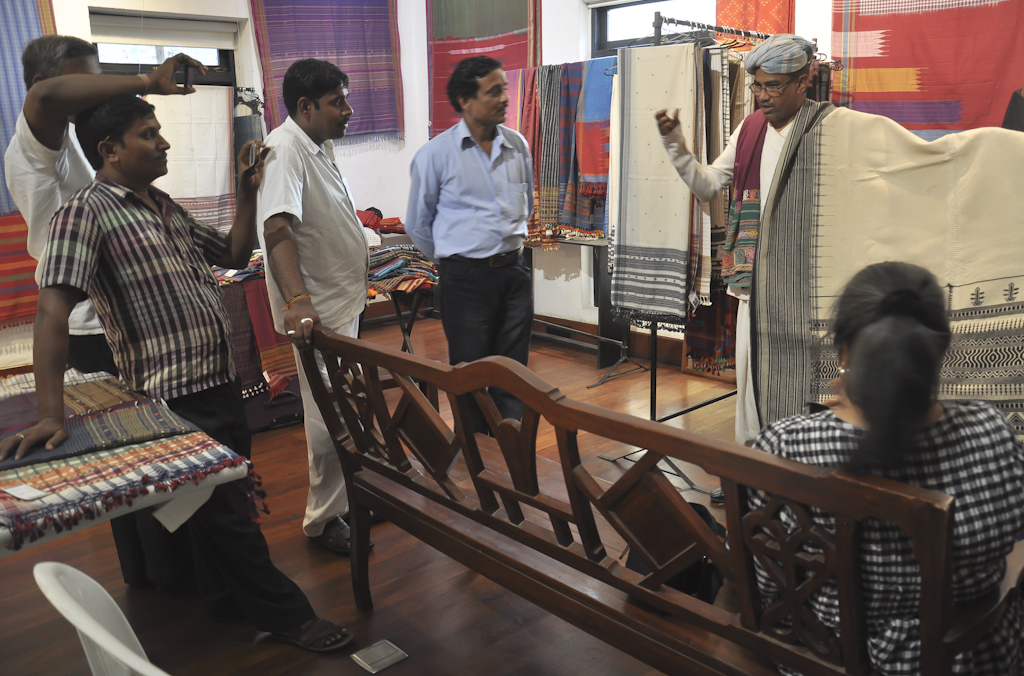 A month later, I had the chance to make my second trip to Bagalkot, to present our project in a year-after follow up event organized by the Catalytic Think Tank Forum. Nilanjanbhai and Jentibhai also came for the event. The three of us went to a packed auditorium and waited for the Bagalkot team. They strode in, smiling and happily chatting. During a break, I went to their seats and asked if they had brought samples? Of course! They each eagerly showed their work, and a crowd immediately gathered, with people grabbing the cloth and asking for the prices. We were all encouraged! And right after that, gliding on our enthusiasm, we all came on stage, each artisan holding his sample up proudly. Knowing we had a very short time, I introduced the project and quickly gave the mike to Tukaram. He spoke with confidence, from the heart, and the crowd cheered and clapped. Later, Tukaram confessed, "I had never been on a stage before!"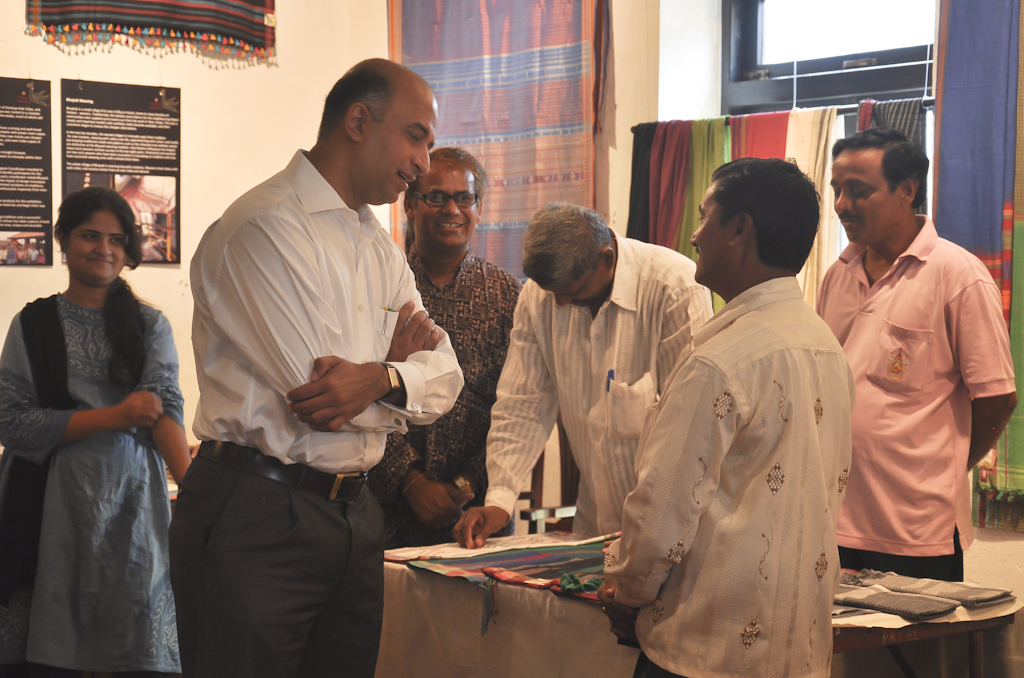 The next day, we visited each weaver's home in Kamatgi. The saris, dupattas and stoles were good, with soft cotton and strong, bold patterns and colours. You could feel how much fun the weavers had had creating their own work, and you could hear their pride as they showed each piece. It was like fish diving into the sea. Nilanjanbhai, Jentibhai and Srinivasji costed the products for the imminent show. The prices also seemed right, though we all realized where costs could be trimmed next time.
We selected a few traditional saris for comparison and insurance, and some traditional Guledgudd khan blouse pieces. When we were leaving, Srinivasji grinned broadly and said, "The Eiffel Tower… Everyone knows it for the engineer's name. No one knows who the artisans were. Here, we are going to tell the artisans' names!"
In a few short days, we reunited in Mumbai. Again, the Bagalkot team strode happily in, chatting away. I was nervous. Our show immediately followed a show of sophisticated weaving, which had sold very well. They later confessed they were nervous, too: "We saw the women on the street wearing jeans and shirts. We wondered how our saris would sell?"
They hesitated, having never displayed their work before. But with Radhiben's guidance, they got to work. From the installation to the last sale, the group demonstrated a remarkable cooperation. They were each proud of their own work, and had created individual labels, but when a customer showed interest, any one of the Bagalkot team showed her the work. Kudos to the Chamundeshwari Cooperative Society for creating a genuine collective spirit, which I believe will facilitate their growth as weaver entrepreneurs.
The show opened with a bang beyond expectation! Crowds came, and they purchased. Sankarappa sold a whopping 80% of his saris on the first day. We broke records previously known. The weavers were thrilled, and interacted confidently with customers, bypassing any language barriers. Amrita Somaiya officially opened the show, and Samir Somaiya arrived the next day, right off a flight from Europe. Srinivasji spoke eloquently of his experience. Thereafter, each day at 4:00 a team of Bhujodi and Bagalkot weavers presented their work. Those who attended were duly impressed to hear first-hand the physical and psychological challenges faced and met, and to share the joy and self esteem of creativity so irresistible in these artisans.
At our debriefing this morning, Nilanjanbhai read the results: an average of 50% sales, with one artisan selling 75%, and one selling 90%. The saris sold! And new work far outsold the traditional. The weavers said they only wished they had taken the project more seriously and produced more. Experience is the best teacher. They were already talking about investing in new raw materials and wanted to know where the next exhibition will be?
And what did they learn? COLOUR! They all said. Colours are the main factor.
I asked if they would like to take a course in colour. Srinivasji said he would be the first to sign up.
I told them I have a dream of opening Somaiya Kala Vidya, Bagalkot.
They applauded enthusiastically.
At this first milestone, the success is intoxicating. Creativity in artisans seems like the grass that sprouts from the desert with just a short drizzle.
Surely, to be continued….
https://textileslive.com/wp-content/uploads/8-danesh-speaking-sm-0156.jpg
671
1024
Judy Frater
https://textileslive.com/wp-content/uploads/TextilesLive_Logo_150.png
Judy Frater
2014-10-12 16:51:19
2023-04-04 21:08:28
Bhujodi to Bagalkot, The First Milestone