Presenting & Positioning Craft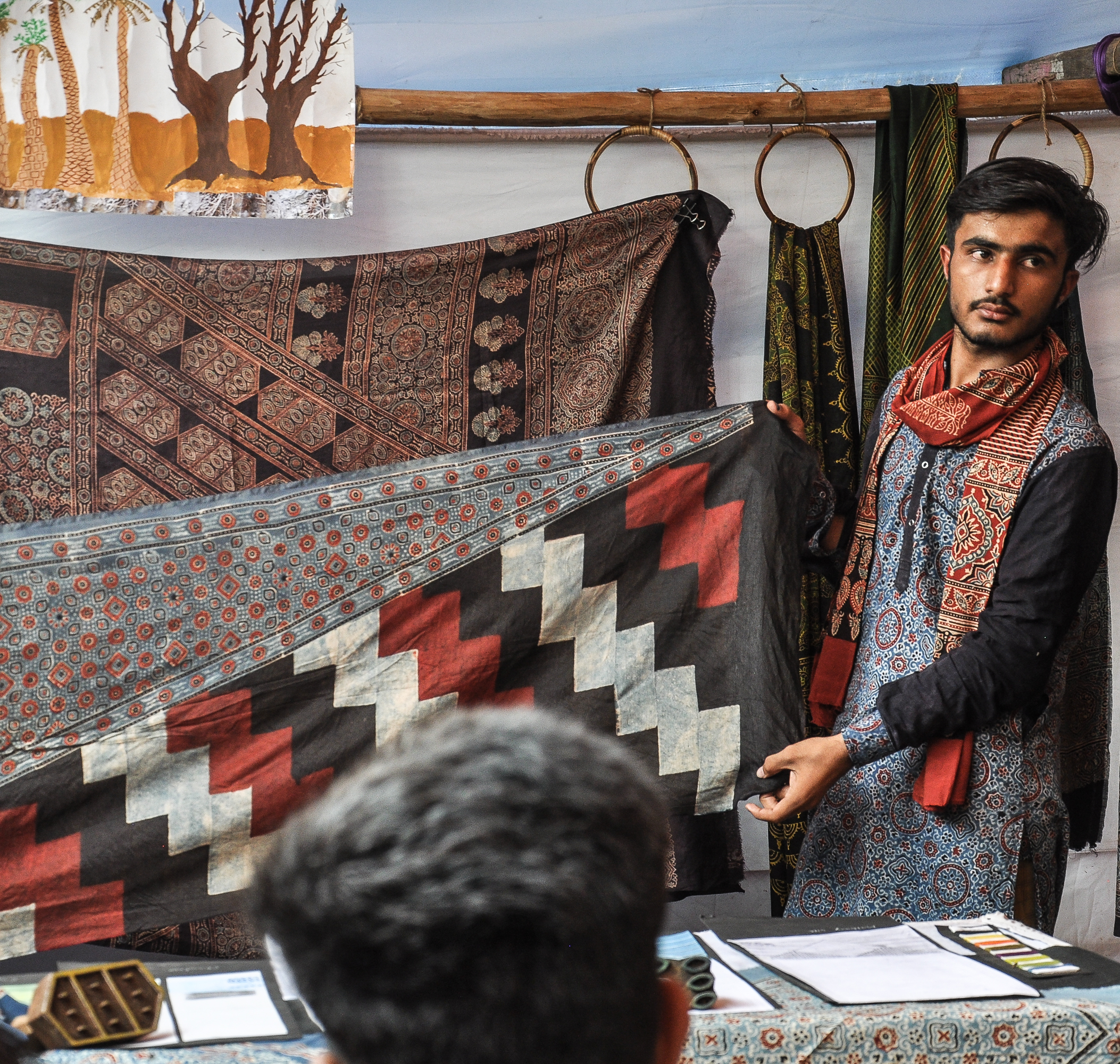 Tausifbhai presents his work to family and professional juries during the "Merchandising, Presentation" module of the Somaiya Kala Vidya design course, 2019.  Presentation includes an explanation of the collection theme, concept development, and specific innovations the student did, in order to illuminate the thought embedded in the work as well as technical innovations- and create value for the whole of the work: concept and creation. 
I have spent the last week toiling over Folk Art Market (IFAM) applications. The applicants worked harder, creating beautiful new collections. My role is to enhance their work through presentation. Craft is presented in many ways.  Fabindia proclaims that imperfections are inherent. Bandhej glosses over handmade to focus on appeal. Good Earth presents products as beautiful and hand crafted.
Yet, in all cases, while designers are celebrated, artisans remain nameless.  "How can we promote them?" I am told.  "No one knows their names."
How to position craft holistically, as the concept and creation of an individual?
In India, artisans presenting their work in exhibitions is seen as an opportunity to bargain. Artisan Designer Khalidbhai Usman Khatri is so fed up that he stopped going to exhibitions. 
IFAM, in Santa Fe, offers a different model, in which artists presenting their own work adds value. Yet, there is the lingering tone of: Buy this folk art to help /support the artisans and, increasingly, high value craft is difficult to sell.  "How many collectors are there?" I am asked. I try to present Tausifbhai, who studied date palms and celebrated them in his handprints, in the IFAM electronic straitjacket, squeezing the soul of his work into the title. The rest is just material, size and price.
But at the Santa Fe Indian Market, Native American artists earn name recognition and respectable prices.  And there seem to be plenty of collectors.
In 2016, when Hasambhai, a potter from Kutch, met Robert Tenorio in Kewa Pueblo, he was astounded at the prices his ceramics commanded.  But, Robert laughed, he didn't start there; he started at $5.
How can an artisan gain value?  The final module of SKV's year-long design course is "Merchandising, Presentation."  The rationale is that artisans can gain full value for their designs only if they present them effectively. Graduates have learned to use photography and the power of social media to bypass prejudice. "I can sell unique work online, and no one bargains for cheaper prices," Khalidbhai says.
Artisans build their names– and in turn collectors, by consciously presenting collectible work.
https://textileslive.com/wp-content/uploads/Tausif-presenting-0923.jpg
2000
2106
Judy Frater
https://textileslive.com/wp-content/uploads/TextilesLive_Logo_150.png
Judy Frater
2023-09-02 22:23:48
2023-09-02 22:26:43
Presenting & Positioning Craft