Craft Re-Defined: The FUN Factor
"We'll have fun!" were the words that arrested me as I headed toward Somaiya Kala Vidya. The idea brightened my day.
I had earlier identified two factors critical for success:
The "Into it" factor, and
The "Go for it" factor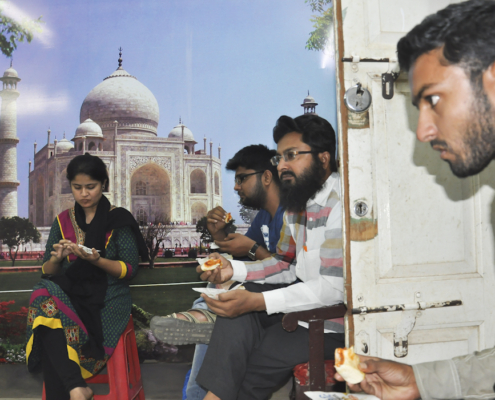 Now, I find the third one: The Fun Factor.
One recent evening Adil, a current artisan student, calls in a panic. He is in charge of photographing for the invitation to Craft Re-Defined, their final exhibition, and he knows the photo isn't right.
I and our intern from the Institute for Rural Management just happen to be near the studio. I ask, should we come?
He says yes, and sends out for dhabeli and strong chai.
A team of students is on the job. When we get there, we all brainstorm, verbally, visually. Adil really wants an image of stoles of each artisan pouring out of a trunk. But it is static and silent (and if the truth be told, it is a bit of a cliché). Time to think out of that proverbial box. We try a close up, my idea. We try a perspective shot, Adil's idea. We try pots- Harshad, my photographer friend, and Zakiya's idea.
Zakiya realizes that while it is important to them to include each and every craft, if not each artisan, it isn't working visually. She suddenly understands editing at a deep, useful level. Wow!
Santosh, the IRMA intern, says he has an idea- put the artisans in it with their faces covered- the unknown artisan.
I yelp!
That is just what we are re-defining! The faceless worker, the hands without a head…
We edit, try fewer stoles with the pots, zoom in on the details.
Then Santosh quietly says he had a flash- what if we have the row of stoles with the artisans' faces peeking out.
Eureka! It's brilliant- the Artisan Designers in the picture!
and in doing it everyone had FUN!
We knew it was right. The fun shows in the image, engages us- perfect for an invitation.
So that is the importance of the FUN factor. It sings in the work.
See you at Craft Re-Defined! ARTISANS' gallery, Kala Ghoda, Mumbai… 3-6 December, 2014
https://textileslive.com/wp-content/uploads/3-craft-re-defined-front.jpg
1014
1438
Judy Frater
https://textileslive.com/wp-content/uploads/TextilesLive_Logo_150.png
Judy Frater
2014-11-23 16:18:24
2023-04-04 21:07:48
Craft Re-Defined: The FUN Factor